Over the past few weeks, I've seen the following occasionally when I try to send an email to someone who uses gmail, I get a "Undelivered Mail Returned to Sender" with the following in the message:
host aspmx.l.google.com[xxxxxxxx] said: 550-5.7.1 [xxxxxxxxx] Our system has detected that 550-5.7.1 this message is likely suspicious due to the very low reputation of 550-5.7.1 the sending IP address. To best protect our users from spam, the 550-5.7.1 message has been blocked. Please visit 550 5.7.1 Why has Gmail blocked my messages? - Gmail Help for more information. xxxxxxxxxx (in reply to end of DATA command)
If I resend the email, it typically goes right through.
Sending email to my own personal Gmail account and select "show original" from the menu, I see: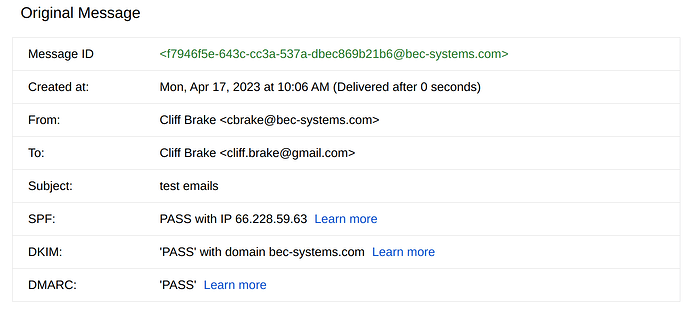 So it seems my mail server is set up fairly well. Perhaps my SMTP credentials have leaked, but my server is not showing up on any of the DNS blacklists.
The hazards of running your own email server – the fundamental problem may be that the big email providers make it difficult to send email to them …